Electric Power and hydraulic Submersible Application dredge pump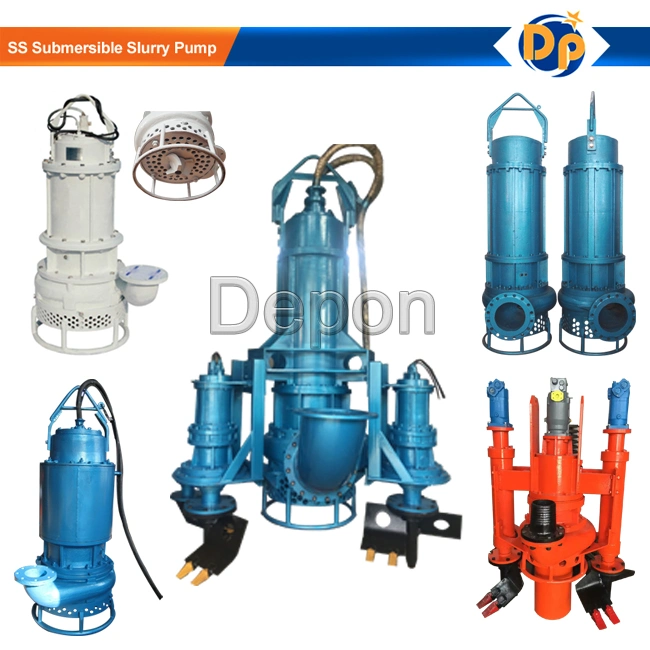 General Information


The Depon SS Series Submersible Slurry Pumps are electro submersiblcentrifugal pumps designed for pumping abrasive and high density slurries in mining, heavy industry, civil construction and municipal applications.

Applications
Transfer of waste water, effluent and solids laden water for:
• Building Services
• Sumps and Basements
• Mining
• Civil Construction
• Industry
• Municipal
• Processing
• Water Treatment



Technical Data
| | |
| --- | --- |
| Flowrate | 6.5 - 670l/s |
| Max. Head | 64m |
| Max. Working Pressure | 640kPa |
| Max. Solid Size | 10 - 60mm |
| Discharge | 80 - 400mm |
| Motor Sizes | 7.5 - 315kW |
| Operating Speed | 980-1480RPM |
Features


• 27% chrome white iron impeller.
• 27% chrome white iron integral agitator.
• 27% chrome white iron volute.
• Replaceable 27% white iron back plate.
• 420 stainless steel shaft
• 420 stainless steel shaft sleeve.
• 420 stainless steel stainer.
• All fasteners 420 stainless steel.
• Large cut water casing clearance.
• Low speed electro-submersible motor provides reliable continuous operation.
• Motor incorporates thrust bearing temperature and moisture sensors.
• F class motor insulation as standard, with optional H class insulation available for reliable operation in high temperature applications.
• Heavy duty cast iron motor construction.
• Heavy duty mild steel support frame with round base provides excellent stability.
• Double mechanical seal with carbon/ceramic on wet end and tungsten/ceramic on the drive end provide effective sealing between motor and wet end.
• Mechanical seals are oil bath lubricated.
• External cooling options available.
• Available with a wide range of protective oatings and paint options.
• Oil chamber incorporates a water leakage probe which detects when water-to-oil ratio is too high and cuts off power to prevent motor damage due to oil contamination.
• Motor incorporates a float switch in the bottom to detect the ingress of water and cut power to prevent motor damage. Motor stator incorporates shutdown temperature control sensors which automatically detect excessive motor temperatures and shut motor down to prevent damage.
• World wide backup and service.



Materials
| | | | |
| --- | --- | --- | --- |
| NO. | Description | Standard Material | Material Options |
| 1 | Support Frame | Mild Steel | |
| 2 | Strainer | 420 Stainless Steel | |
| 3 | Pump Casing | Cr27 White Iron | SS316, A49,CD4MCu |
| 4 | Back Plate | Cr27 White Iron | SS316, A49,CD4MCu |
| 5 | Impeller | Cr27 White Iron | SS316, A49,CD4MCu |
| 6 | Agitator | Cr27 White Iron | SS316, A49,CD4MCu |
| 7 | Oil Chamber Housing | Cast Iron | |
| 8 | Shaft | 420 Stainless Steel | |
| 9 | Shaft Sleeve | 420 Stainless Steel | |
| 10 | Wet End Mechanical Seal | 304 Stainless Steel | |
| 11 | Motor Mechanical Seal | 304 Stainless Steel | |
| 12 | Motor Casing | Cast Iron | |
| 13 | Motor Cooling Jacket | Fabricated Mild Steel | |
| 14 | Lifting Brace | Mild Steel | |
| 15 | Bearing Covers | Cast Iron | |
| 16 | Oil Chamber Cover | Cast Iron | |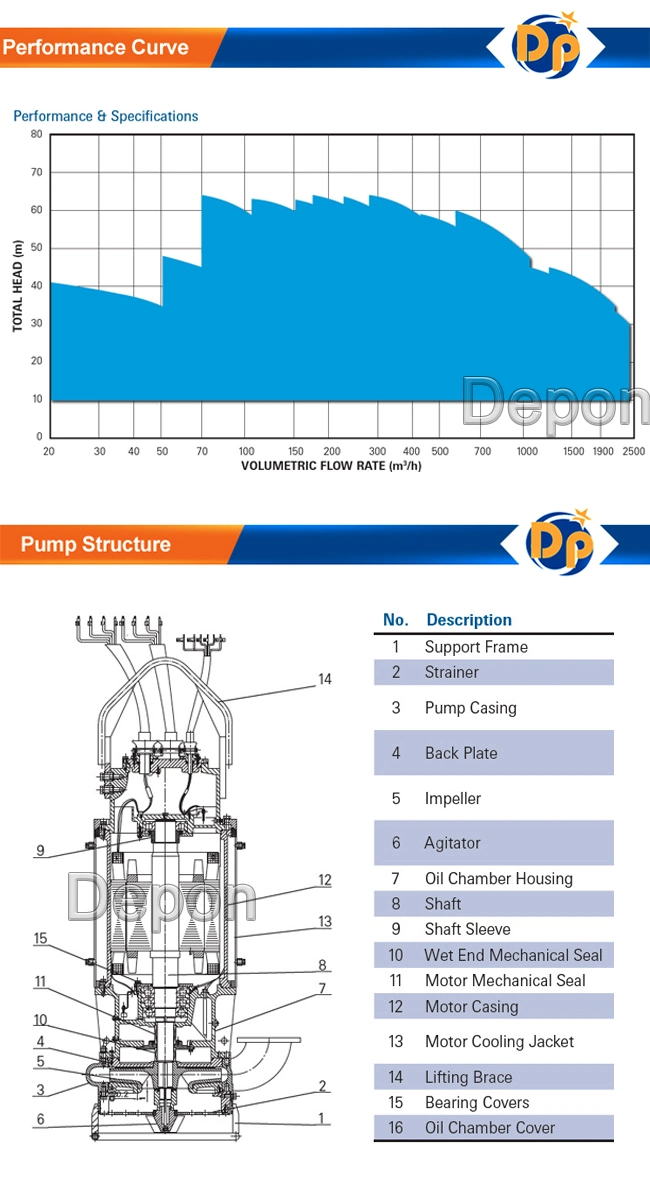 Model Selection Table
| | | | | | | | |
| --- | --- | --- | --- | --- | --- | --- | --- |
| Model | Outlet Dia. (mm) | Capacity (m³/h) | Head (m) | Power (Kw) | Speed (r/min) | Max.Dia.of Solid (mm) | Pump Weight (kg) |
| SS45-15-5.5 | 80 | 45 | 15 | 5.5 | 1460 | 13 | 100 |
| SS15-20-5.5 | 80 | 15 | 20 | 5.5 | 1460 | 13 | 100 |
| SS30-30-7.5 | 80 | 30 | 30 | 7.5 | 1460 | 13 | 114 |
| SS50-26-11 | 80 | 50 | 26 | 11 | 1460 | 13 | 165 |
| SS75-25-15 | 100 | 75 | 25 | 15 | 1460 | 13 | 220 |
| SS150-18-18.5 | 150 | 150 | 18 | 18.5 | 980 | 32 | 550 |
| SS200-12-22 | 150 | 200 | 15 | 22 | 980 | 45 | 580 |
| SS60-46-30 | 150 | 60 | 46 | 30 | 980 | 21 | 700 |
| SS150-30-30 | 150 | 150 | 30 | 30 | 980 | 21 | 550 |
| SS300-20-37 | 200 | 300 | 20 | 37 | 980 | 28 | 775 |
| SS200-30-45 | 150 | 200 | 30 | 45 | 980 | 36 | 1000 |
| SS500-15-45 | 250 | 500 | 15 | 45 | 980 | 46 | 1100 |
| SS250-35-55 | 150 | 250 | 35 | 55 | 980 | 36 | 1140 |
| SS600-15-55 | 250 | 600 | 15 | 55 | 980 | 46 | 1140 |
| SS350-35-75 | 200 | 350 | 35 | 75 | 980 | 28 | 1550 |
| SS500-20-75 | 200 | 500 | 20 | 75 | 980 | 25 | 1550 |
| SS200-60-90 | 150 | 200 | 60 | 90 | 980 | 14 | 1550 |
| SS400-40-90 | 200 | 400 | 40 | 90 | 980 | 28 | 1550 |
| SS600-30-110 | 200 | 600 | 30 | 110 | 980 | 28 | 1970 |
| SS1000-18-110 | 300 | 1000 | 18 | 110 | 980 | 50 | 1970 |
| SS500-45-132 | 200 | 500 | 45 | 132 | 980 | 28 | 2000 |
| SS1000-22-132 | 300 | 1000 | 22 | 132 | 980 | 50 | 2000 |
| SS650-52-160 | 200 | 650 | 52 | 160 | 980 | 28 | 2650 |
| SS780-50-185 | 300 | 780 | 50 | 185 | 980 | 38 | 3330 |
| SS800-55-220 | 300 | 800 | 55 | 220 | 980 | 38 | 3400 |
| SS1250-35-220 | 350 | 1250 | 35 | 220 | 980 | 45 | 3400 |
| SS1750-30-250 | 350 | 1750 | 30 | 250 | 980 | 55 | 3500 |
| SS2000-35-315 | 400 | 2000 | 35 | 315 | 980 | 60 | 3700 |
Note: Please contact us, we will give you the better solution.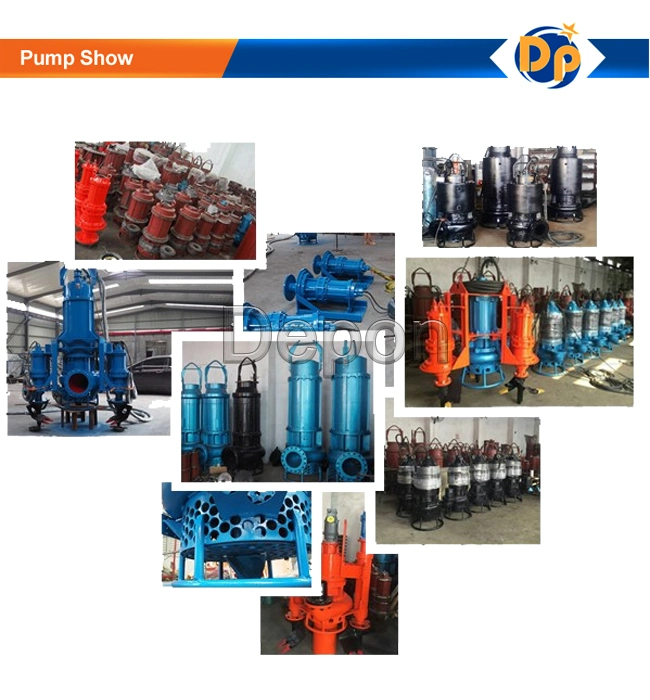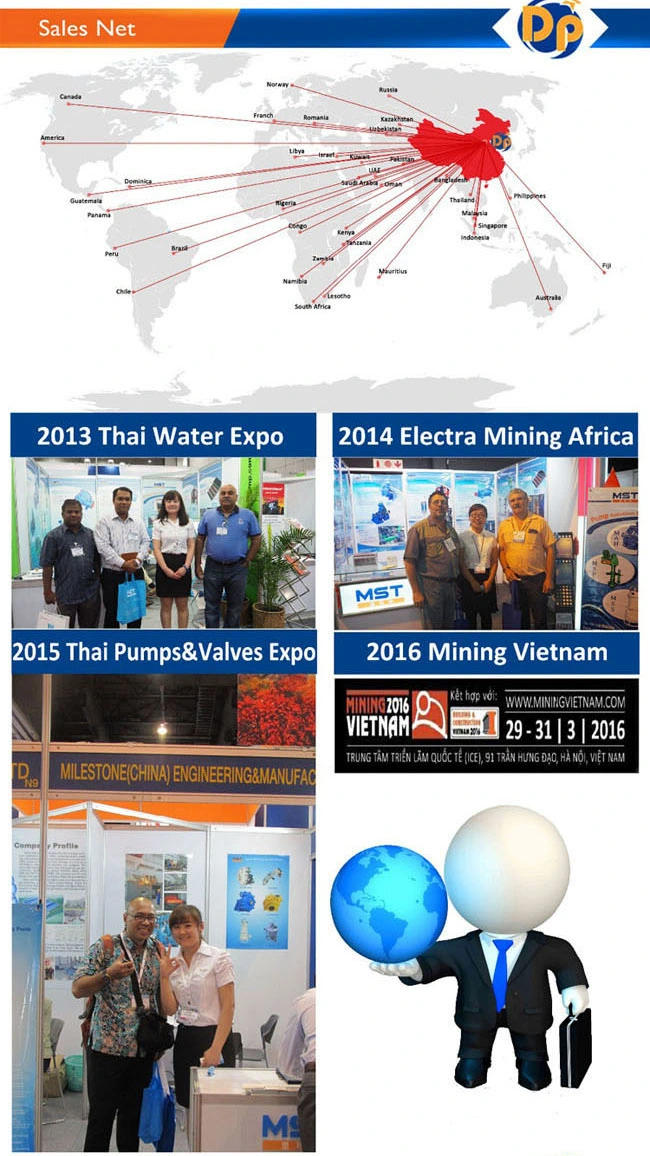 FAQ
A: What kind of company you are?
Q: Shijiazhuang Depon Pump Company is professional manufacturer in pumps. After accumulation and development of many years, we have formed a complete system of pump design, selection, application, manufacture, marketing and maintenance. We have passed CE, SGS certificate. Our customers are at home and abroad. Hope to coorperate with the worldwide friends.

Q: What's your MOQ?
A: Trial sample order is OK.

Q: What are your payment terms?
A: T/T, L/C, D/P, D/A or as customer required

Q: How about the warranty?
A: One year warranty for pumps, it depends on other pump working condition details.

Q: What is the delivery time?
A: 7-30 days according to customer quantities.

Q: Can you do OEM brand?
A: Yes, Welcome.

Q: What information should I offer to get pump solution?
1, Head: m
2, Flow: m3/h
3, Max Solid size: mm
4, Particle shape (smooth or sharp):
5, Medium pH level:
6,Specific Gravity of the Medium:
7, Temperature:
8, Drive type:
9. Power supply: Electric or Dlesel
10, Voltage and Frequency of the Motor:
Welcome inquiry!
Serena Zhang
Contact: