Hydraulic combined punching&shearing
I. Mchine feature
Q35Y Series hydraulic combined punching&shearing machine can cut and punch
all kinds of materials such as plate, square bar, angle, round bar, channel and so on.
KRRASS Industrial hydraulic ironworkers have been designed and built to the highest quality standards in the industry.
This profitable machine will serve any grueling fabrication shop for decades to come.
This machine is typically in stock for quick deliveries.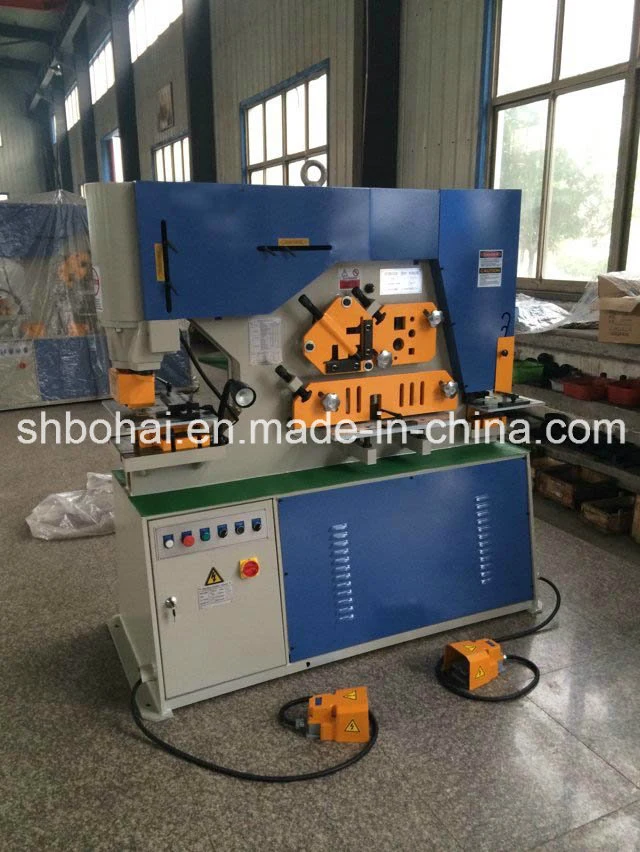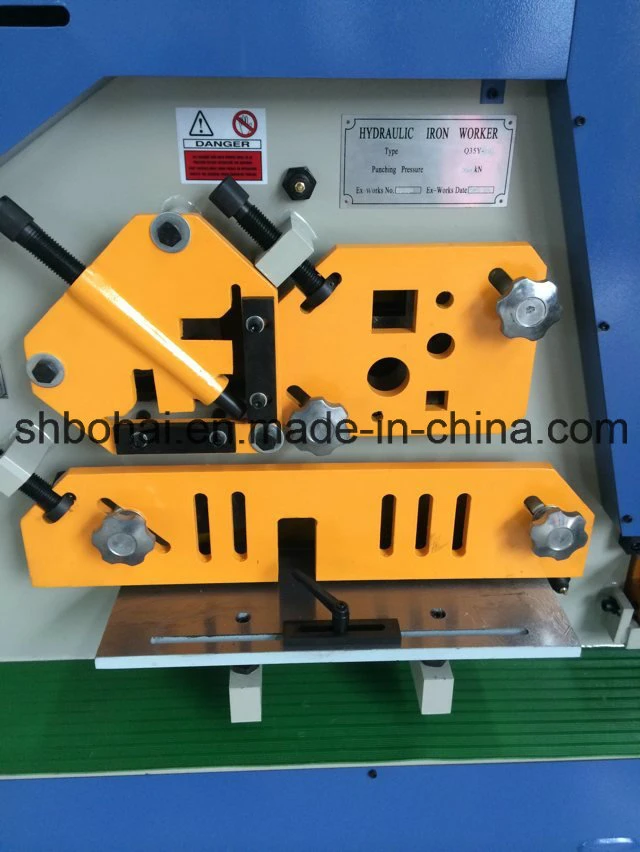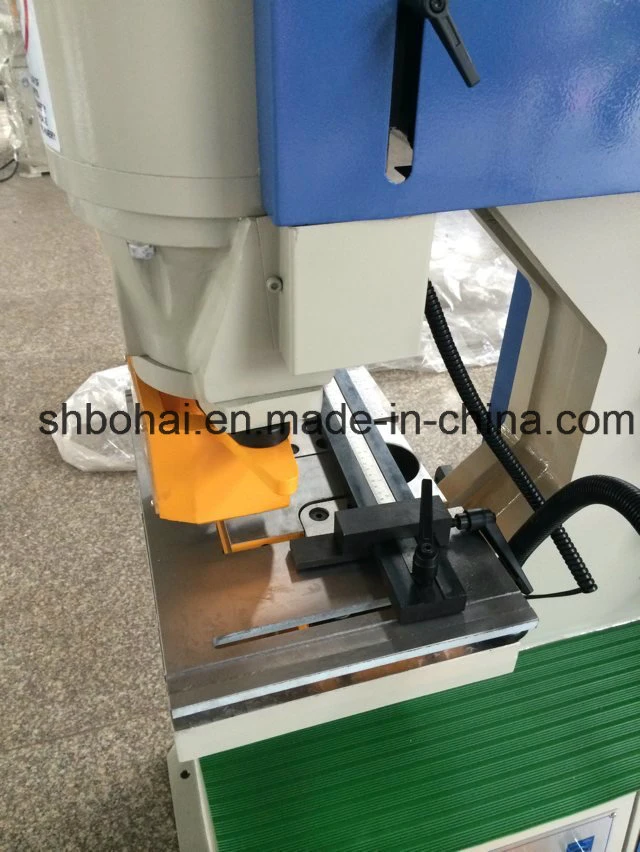 II
. Main Function
1. Punching
Full range of universal punches and dies are available.unique style allows for large angle iron punching and large channel punching. Large viewing window on stripper swing away design for ease of operation. large two piece gauging table with rulers and stop as standard fittings. Quick change coupling nut and sleeve for rapid replacement of change.
2. Shearing
Round and square bar shear has multiple holes for a variety of sizes. Adjustable hold down device for round/square bar,
channel/beam cutting. Large strong guarding for max safety. The angle shear has the ability to cut angle at 45°both top and bottom leg.
This gives the operator the ability to make a picture frame corner for perfect welds. Diamond shaped blade for quality cuts that is minimal
material lost and deformity. Easily adjustable hold-down device for accurate plate cutting.large 15″squaring arm with inlaid scale.Special anti-distorted blade for quality cutting.
Lower blade has four usable edges. There is screw allow for gap adjust no shim needed.
3 . Notching
Unique design allows for cutting of angle and flat bar. Electrical interlock safety guard and three gauging stops for precise positioning. The notching section of this hydraulic ironworker is perfect for notching out metal plate,
angle iron and much more. The notching station also has an oversized table with material stops.
This section of the machine can also be outfitted with the optional vee notcher.
4. Bending
Also bend the plate below 500mm. All the components of Machine are of the highest quality in their safty, function, capability and maintenance
III
. Technical Data
No.
Function
Item
Unit
Q35Y-16
Q35Y-20
Q35Y-25
Q35Y-30
1
shearing plate
Angle of shearing
°
7°
8°
8°
8°
Max. shearing thickness
mm
16
20
25
30
Flat bar
(W×T) mm
250×16
330×20
330×25
355×30
400×8
480×10
600×16
600×20
2
shearing bar
Round steel
mm
45
50
60
65
Square bar
mm
40×40
45×45
50×50
55×55
90°shearingof equal-angle bar
mm
120×120×12
140×140×12
160×160×14
180×180×16
45°shearing of equal-angle bar
mm
70×70×8
70×70×10
80×80×7
80×80×10
90°shearing of T-bar
mm
120×120×12
140×70×12
160×80×14
180×90×16
I beam steel
mm
126×74×5
160×86×6
200×102×9
280×124×10.5
channel steel
mm
126×53×5.5
160×60×6.5
200×75×9
280×86×11.5
3
Notch
thickness
mm
10
10
12
10
width
mm
80
80
80
90
depth
mm
100
100
100
100
4
punching hole
Max. punching thickness
mm
16
20
25
28
Max. diameter of punching
mm
25
30
35
38
Punching force
Ton
60
90
120
160
Depth of throat
mm
300
355
400
600
Max. length of cylinder stroke
mm
80
80
80
80
Stroke times
times/min
6
8
6
8
5
Material strength
N/mm2
≤450
≤450
≤450
≤450
6
Motor power
KW
4
5.5
7.5/11
11
7
Overall dimensions
(L×W×H)
1650×800×1780
1950×900×1930
2350×980×2100
2680×1060×2380
8
Net. weight
KG
1900
2600
4400
6600
IV.
Company profile
BOHAI (Shanghai Bohai Machinery Factory) has been manufacturing sheet metal machinery since 1989. We are a privately owned company with a unique culture.
We believe that the only way to create jobs is to manufacture quality. This is echoed in our slogan;
We provide comprehensive technical support and can provide expert advice at any stage to ensure we fully understand your requirements and the best option.
V.
The Products range includes

:
WD67Y Series Hydraulic Press Brake
WD67K Series NC Press Brake
PSK Series Full CNC Press Brake (Hydraulic Crowning)
PPBH Series Full CNC Press Brake (Mechanical Crowning)
QC12K Series Hydraulic Swing Beam Shear
QC11K Series Hydraulic Guillotine Shear
W11 Series Mechanical Roll bending machine
Punching Machine
Hydraulic Press
HAVC Duct Machinery