Submersible Sand Pump Product discrption :
ZIDONG

NSQ submersible slurry pump is hydraulic machinery, the motor and the pump of which are coaxially working submerged in medium . The wetted parts of the pump are made of high chromium wearable alloy , so the pump has good wear resistance and large flowing passage. It is applicable for conveying medium such as sludge, ore slurry, coal slurry, sandstones containing big solid particles.
The product is designed and manufactured by domestic and oversea advanced technologies. Besides the main impeller, the bottom of the pump is additionally provided with a set of agitation impeller which can spray the deposited sludge into turbulent flow,. The unique mechnical seal device can effectively balance the pressure inside and outside the oil chamber, so as to protect the reliability of the mechanical seal to the maximum extent. The motor adopts various protective measures such as overheat protection, water inlet detecting protection, and can operate safely for a long term in harsh working condition.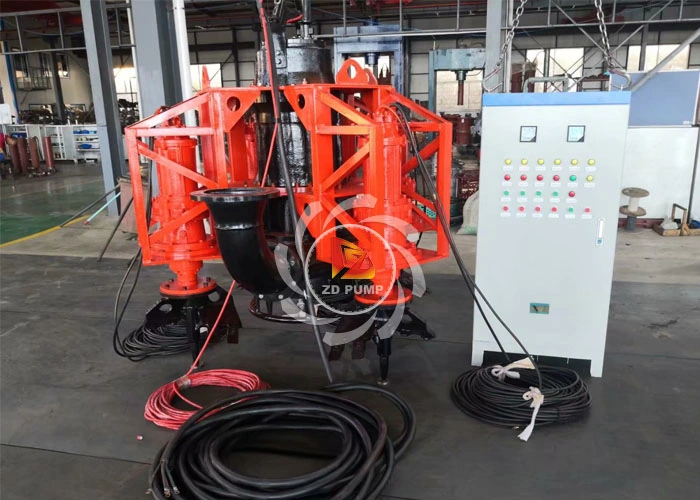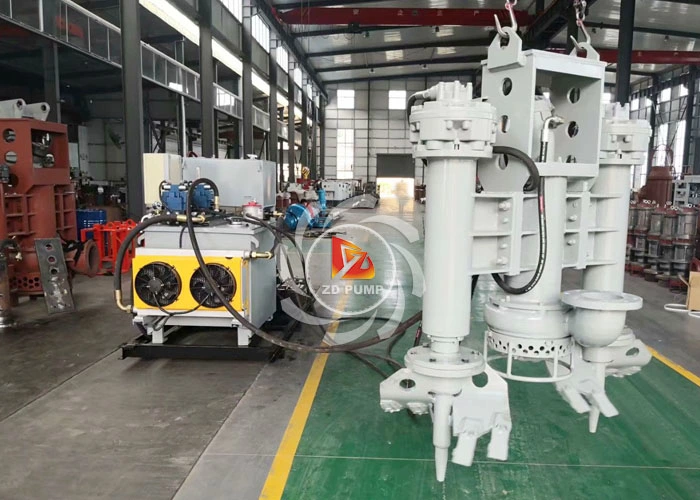 Electric Driving Type Hydraulic driving type
Main Features
√ International standard structure.
√ Wet parts are made of high chrome alloy material application to transport abrasive medium with solid, sharp sand, stone,shell and slurry pump,etc.
√ Wide passing channel with strainer to stop large solid, and no clogging.
√ High chrome alloy stir impeller to increase concentration & improve sand production.
√ Special design mechanical seal with excellent sealing performance to avoid high pressure water and impurities come into the motor, stable working and longer life.
√ Top brand water-proof motor with 100% copper winding.
√ Closed impeller has high efficiency.
√ Low speed has longer working life.
√ Double connection wire design to match with our exclusively design control pannel to protect pumps when water entering into motor.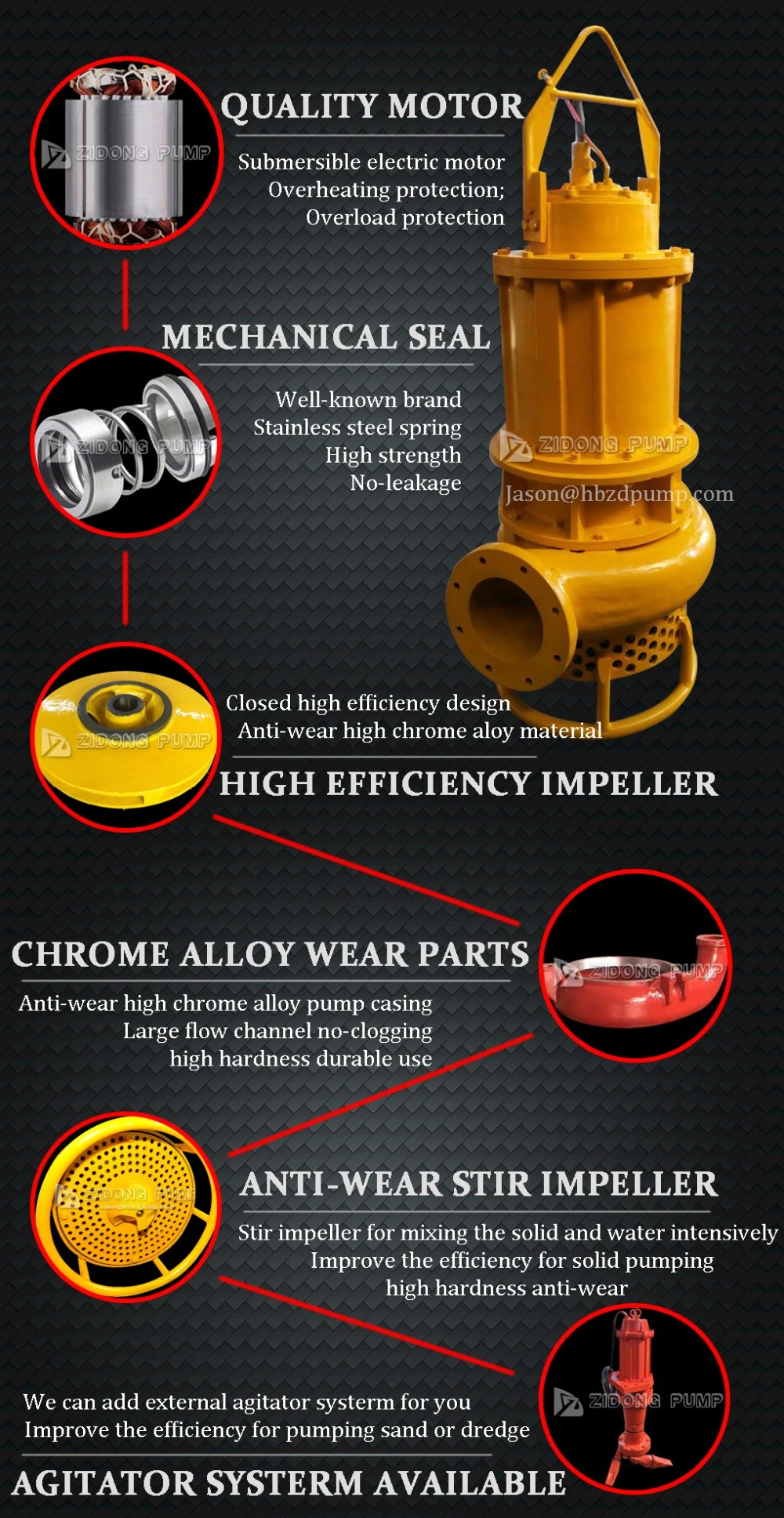 Submersible Sand Pump Applications
√ Pumping tailing slurry for industrial and mining organizations;
√ Sucking silt in sedimentation basin;
√ Pumping silty sand or fine sand for seashore or port;
√ Pumping powdery iron ore;
√ Deliver a solid particles of mud, larger pulp, coal slurry, sandstone;
√ Sucking from all kinds of fly ash power plant, coal slime
| | | | |
| --- | --- | --- | --- |
| • Mining | • Slurries | • Sands | • Silty sand |
| • Dredging | • Chemical slurries | • Iron ore sands | • Sediment |
| • Sewage treatment | • Sludge | • Desilting | • Tailing slurries |
| • Lime mud | • Coal slime | • Gravels | • Construction |
| • Slush | • Slag | • Silt | • Other industries |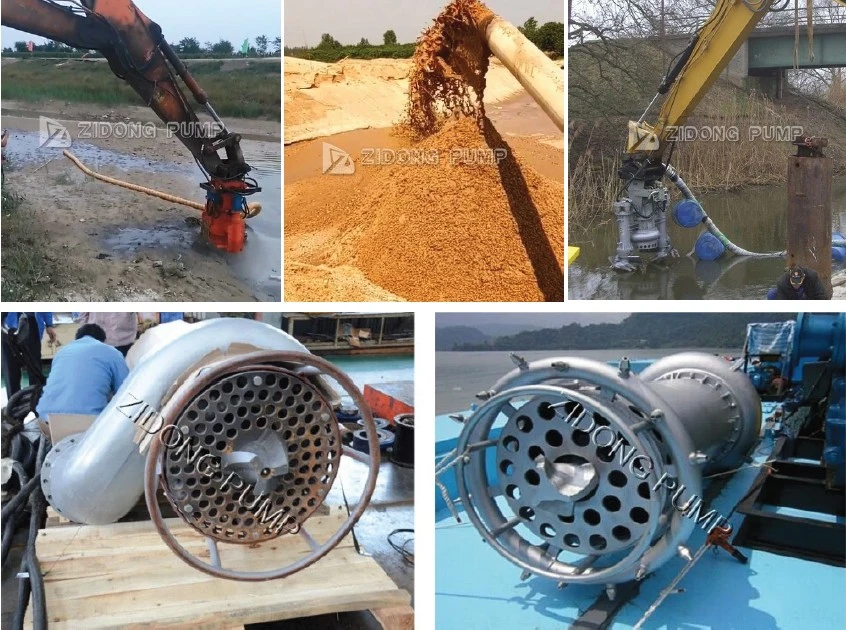 Company Profile
Hebei Zidong Pump Industry Co., ltd is is a experienced centrifugal pump factory, which specialized in manufacturing of centrifugal pump for many years, our main products is centrifugal slurry pumps and water pumps, our pumps are widely-used in different mining industry, energy, chemical industry, dredging and agriculture irrigation, for conveying both slurry and water.



Zidong Pump focus on international high standard pumps and effective project design solutions, we have passed ISO CE, and UL certifications, we owned modern standard workshops, CNC equipment, advanced testing lab, spray-baking booth, strictly QC team, large performance testing center to guarantee each spare parts and pumps in 100% top international quality.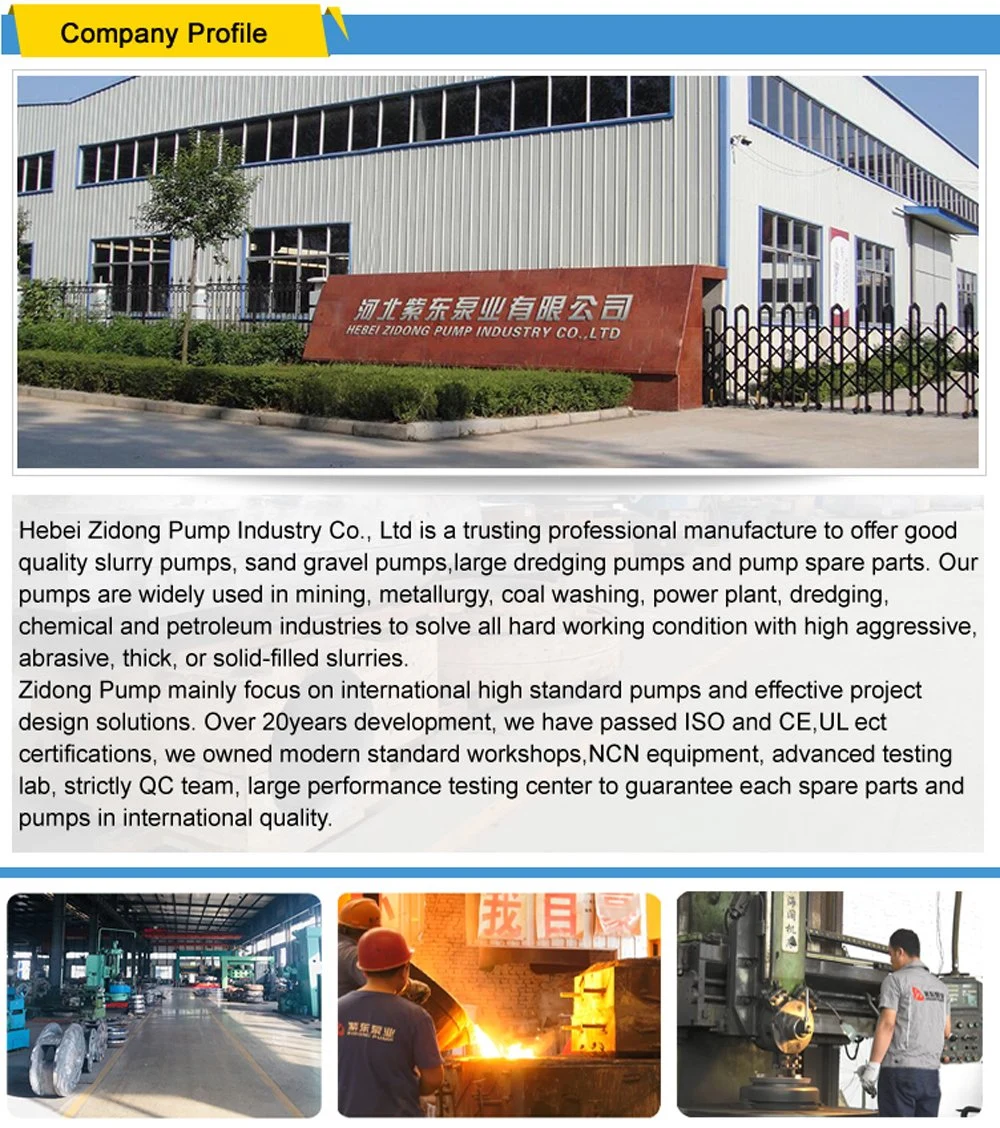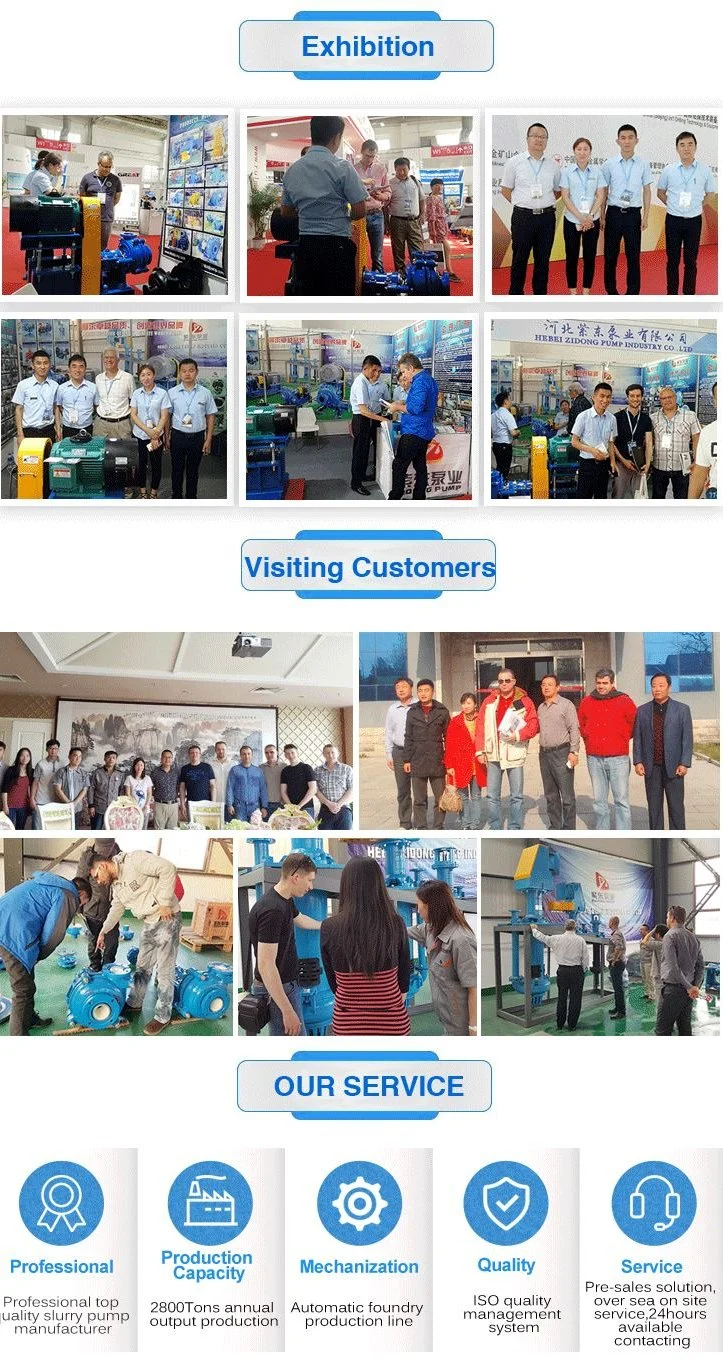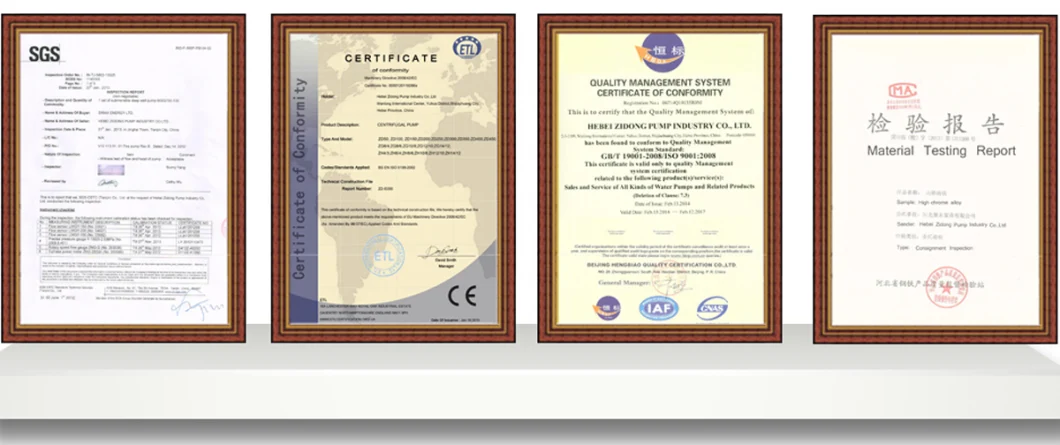 Packing & Delivery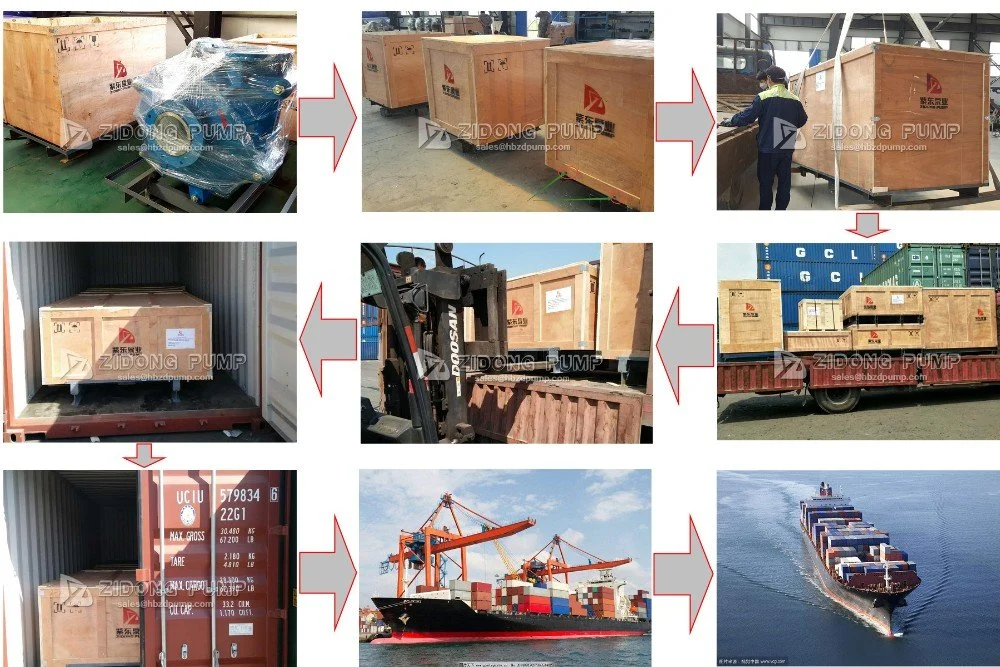 Market Worldwide
Zidong products are sold all across China and exported to over 70 other countries and regions. Our pumps have high reputation in the international market. Till now, we have provided more than 10000 sets of pumps for the projects in U.S.A., U.K., Germany, Canada, Russia, Vietnam, Pakistan, Kazakhstan, Indonesia, Malaysia, lran, Brazil, Chile, Argentina, Bulgaria, Zambia, etc.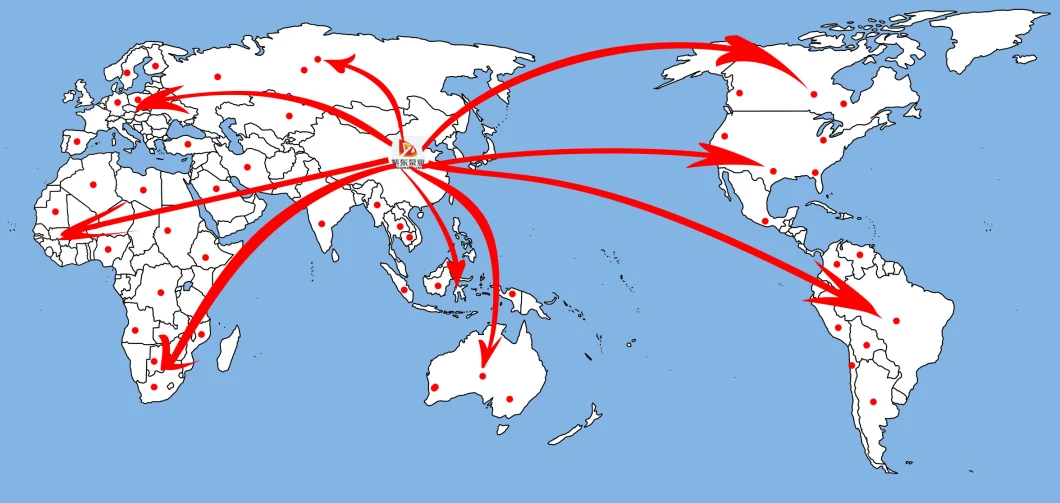 Ralated Products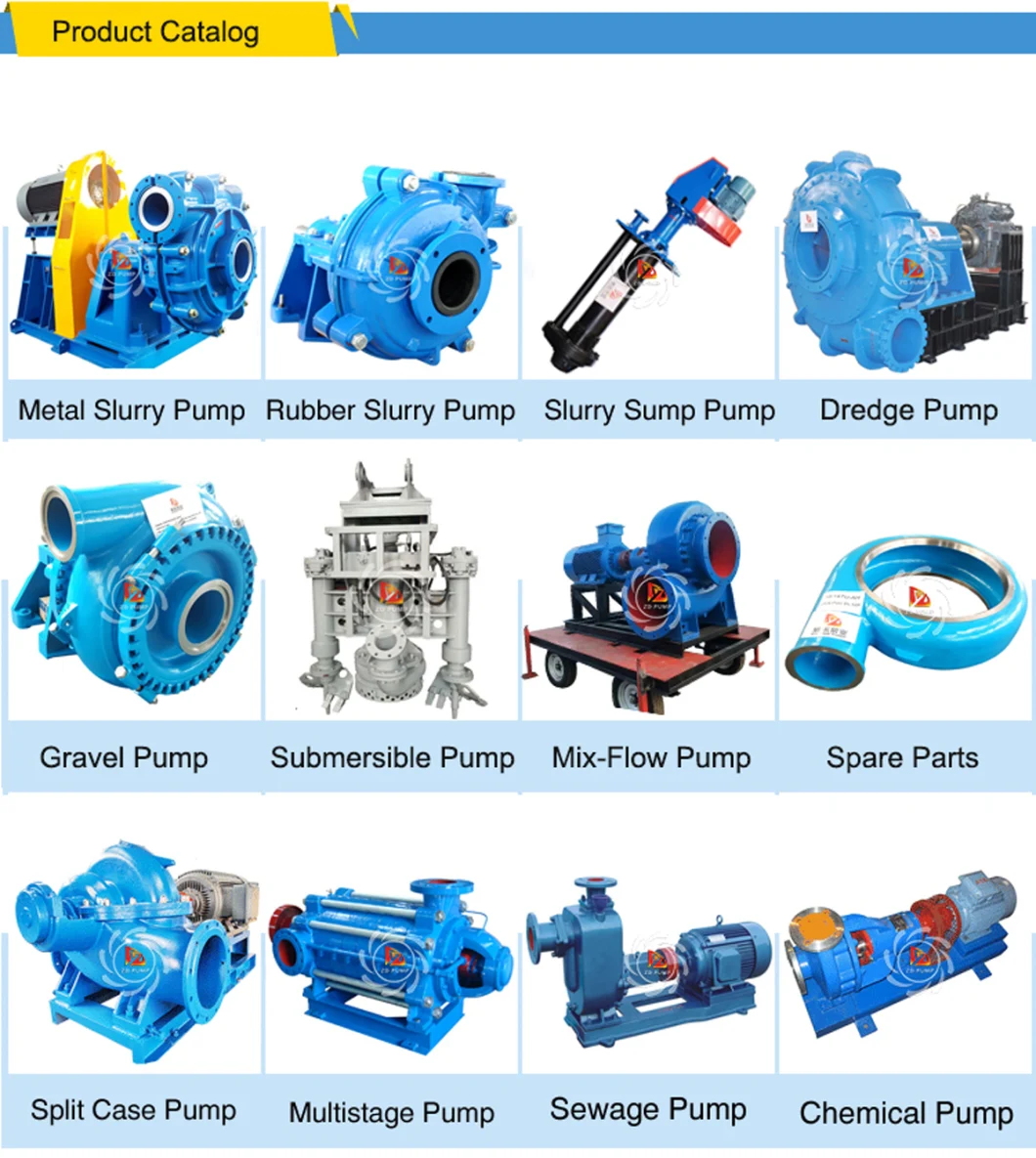 FAQ
Q.

What is your product range?


Centrifugal pump, slurry pump, gravel pump, dredge pump, clean water pump, sewage pump, chemical pump, etc.

Q.

How can I select a suitable pump?


To select a suitable pump,
Firstly, confirm the medium: clean water or slurry.
Secondly, confirm the pumping parameters: flow, head pressure, specific gravity, density, etc.

Q.

What are the power types of slurry pumps?


Electric motor or diesel engine,
Depend on customer's request. If motor, please kindly confirm your local industry voltage/ hertz/ phase.

Q.

What should we know if you want to get a quotation?


Pump capacity, pump head, medium type, pump material, quantity.
If possible, please provide the pump model you are using now, that is helpful to choose the most suitable pump model for you.
If not, we will recommend relevant product for reference.

Q.

What are your advantages about pumps?


Passed CE&ISO, international standard design, easy maintenance, perfect looking, high performance accepted by current clients;

Q.

How to control the quality?


Each pump will be tested before delivery;
Third party inspection-such as SGS, etc.;
Strict material inspection, performance test available before delivery.
100% return your payment if our pump not qualified due to our fault.

Q.

What's your MOQ and payment terms?


MOQ 1 set, we can start business with you from a trail order.
Payment Term: T/T, L/C, Western Union, PayPal.