3KVA 120VAC 24VDC Hybrid Solar Power Inverter Power Converter(QW-3kVA2450)
Product Introduction
Queenswing off grid solar inverter is integrated with a MPPT or PWM solar charge controller, a high frequency pure sine wave inverter and a UPS function module in one machine, which is perfect for off grid backup power and self-consumption applications.
This inverter is available for motoring access. Customer can monitor the PV system on web anytime.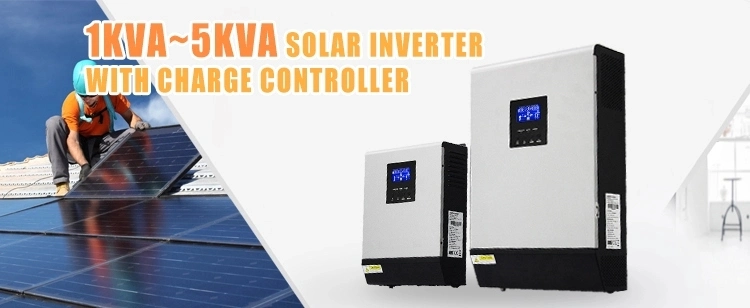 Product snapshot:
Model : 3KVA
Nominal Voltage : 120VAC
Nominal Frequency : 60HZ
Output Power Factor: 0.8
Key Features:
1. 2400W Pure Sine Wave Output single phase
2. Built-in 50A PWM Solar Charger
3. Built-in 3-Stage High Efficiency 30A Battery Charger
4. Supports 50hz or 60hz via LCD program
5. Dual Priority Operation Selectable: AC vs. DC Mode
6. Fuse Protection Against Reverse Polarity
7. Free Monitoring Software
8. Works With 24Vdc Battery System Only
9. Works With 120Vac Load
10. Transfer time <9ms
11. Programmable LCD with menu
12. 24 hour operation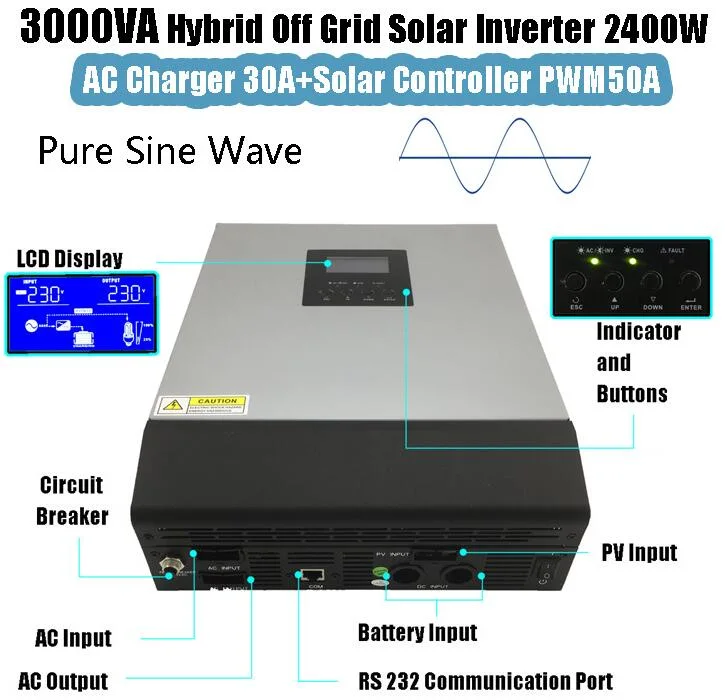 Product Overview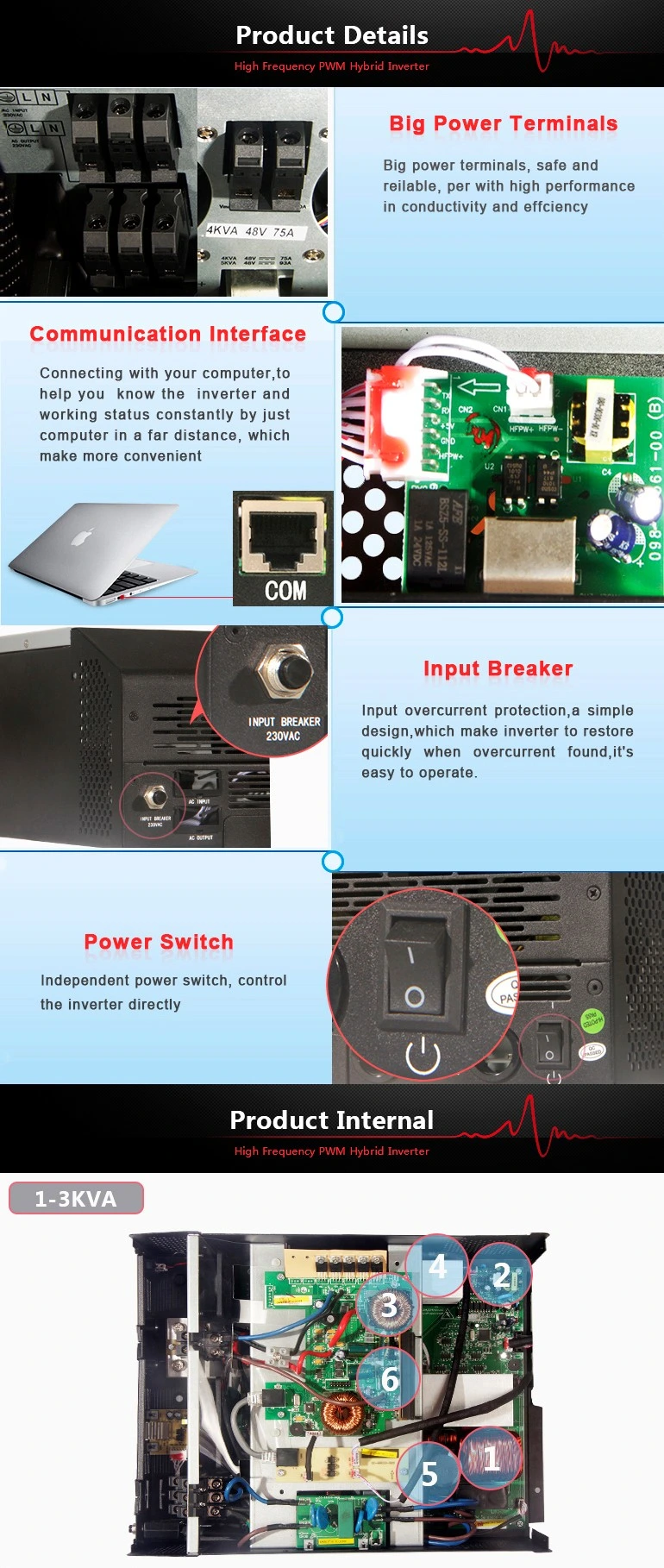 Product technology standards

OEM Order Production

System Connection


Basic System Architecture
The following inllustration shows basic application for this inverter/charger. It also includes following devices to have a complete running system:
Generator or utility
PV modules(option)
Consult with your system integrator for other possible system architectures depends on your requirements.
This inverter can power all kinds of appliances in home or office including motor-type appliances such as tube light, fan, refrigerator and air conditioner.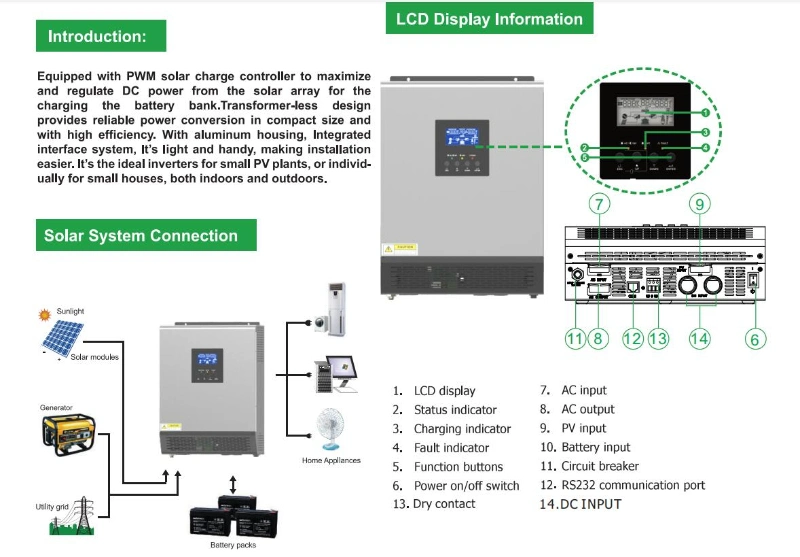 Different Working mode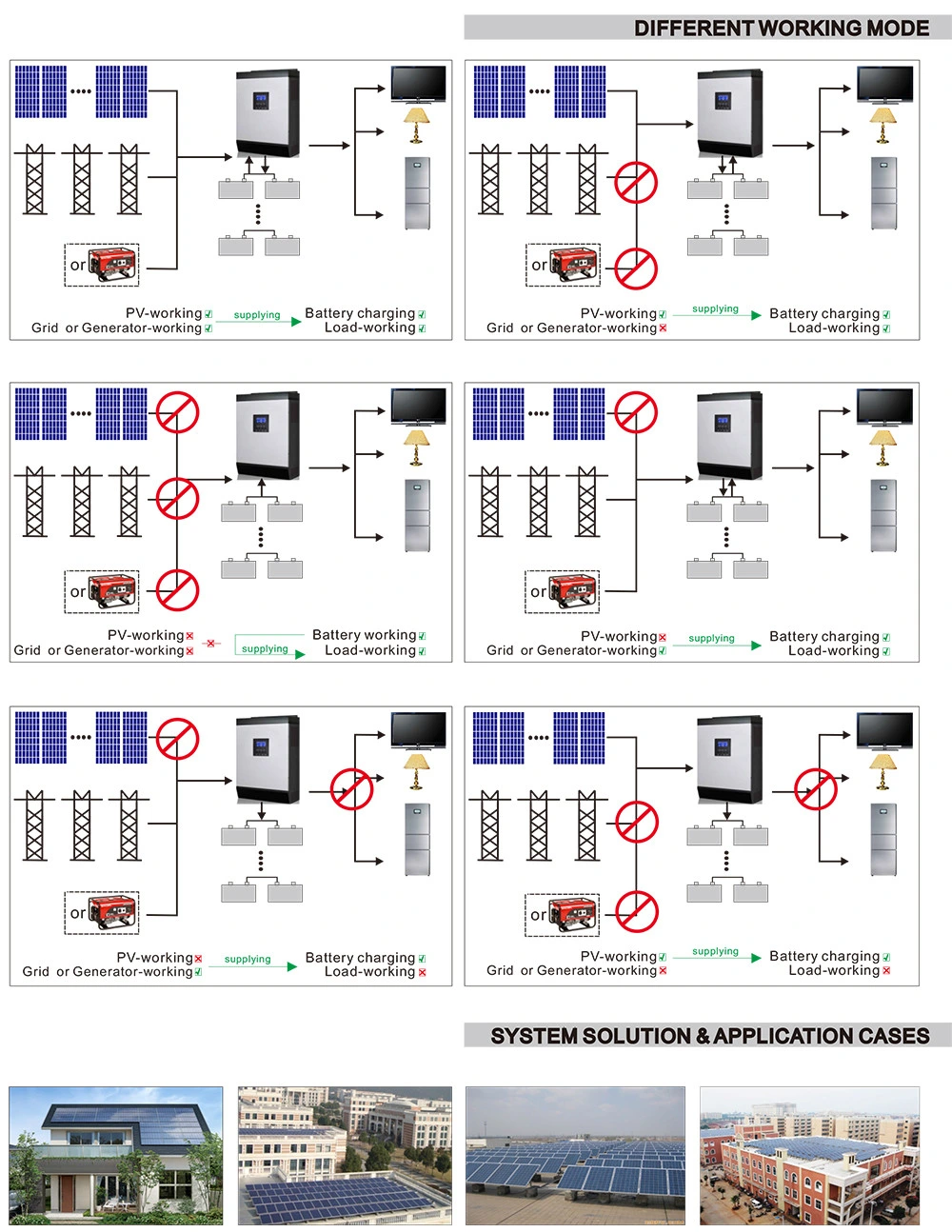 System Installation --- feedback from customers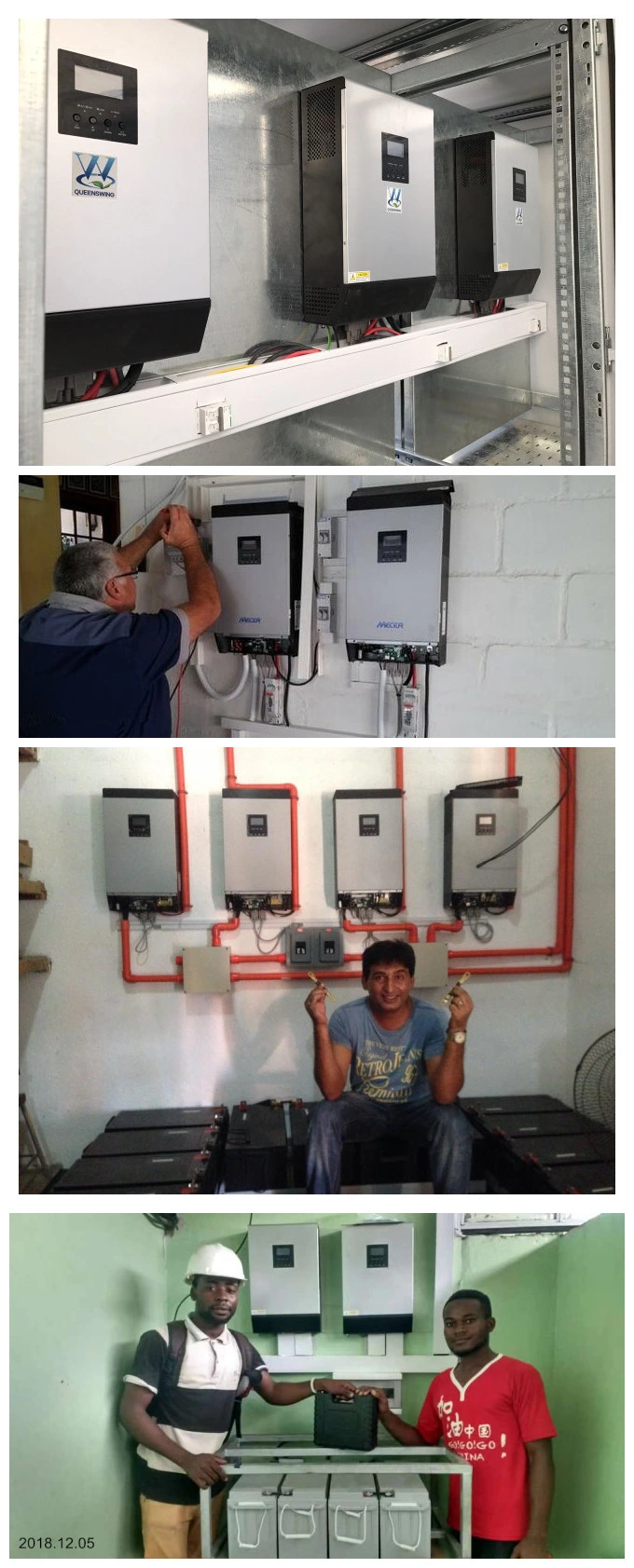 Technical Data
1-5KVA HYBRID SOLAR INVERTER BUILT IN PWM SOLAR CHARGE CONTROLLER
Model
3K-24V
Rated Power
3000VA/2400W
INPUT
Voltage
120VAC
Selectable Voltage Range
95-140VAC 7V(UPS);
65-140VAC 7V(Appliances);
Frequency Range
50 / 60Hz (Auto)
OUTPUT
AC Voltage Regulation(Batt. Mode)
120 VAC ± 5%
Surge Power
6000VA
Efficiency(Peak)
93%
Transfer Time
10 ms (For Personal Computer)
20 ms (For Home Appliances)
Waveform
Pure Sine Wave
BATTERY & AC CHARGER
Battery Voltage
24 VDC
Floating Charge Voltage
27 VDC
Overcharge Protection
30 VDC
Maximum Charge Current
30A
SOLAR CHARGER(OPTION)
Charging Current
50A
Maximum PV Array Open Circuit Voltage
80 VDC
Standby Power Consumption
2W
PHYSICAL
Dimension, D x W x H(mm)
305x272x100
Gross Weight(kg)
8.5
OPERATING ENVIRONMENT
Humidity
5% to 95% Relative Humidity(Non-condensing)
Operating Temperature
0ºC - 55°C
Storage Temperature
-15ºC - 60°C
Product specifications are subject to change without further notice
Main Product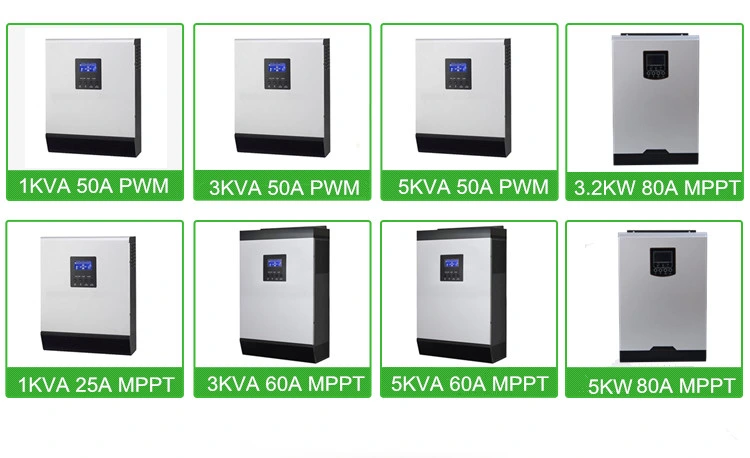 Contact us: