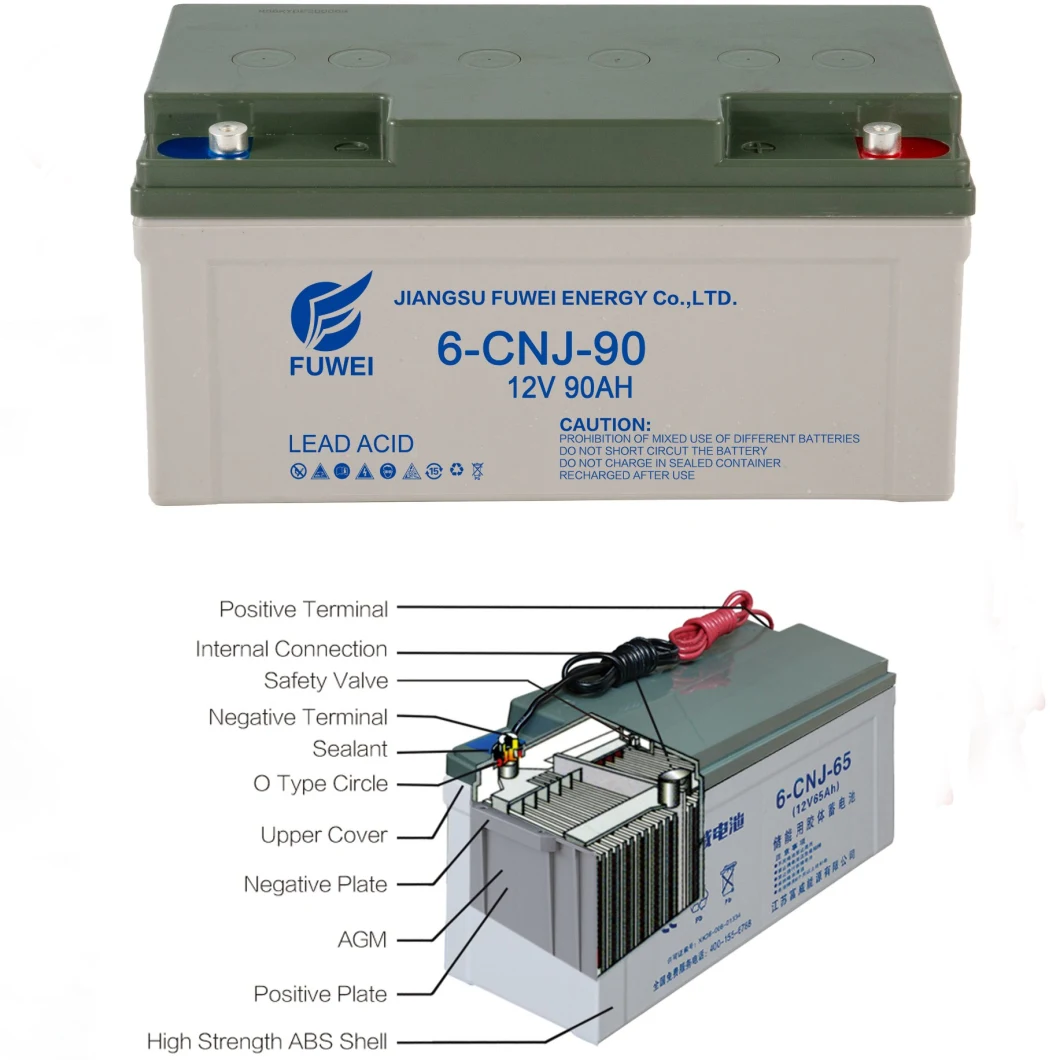 Product character curve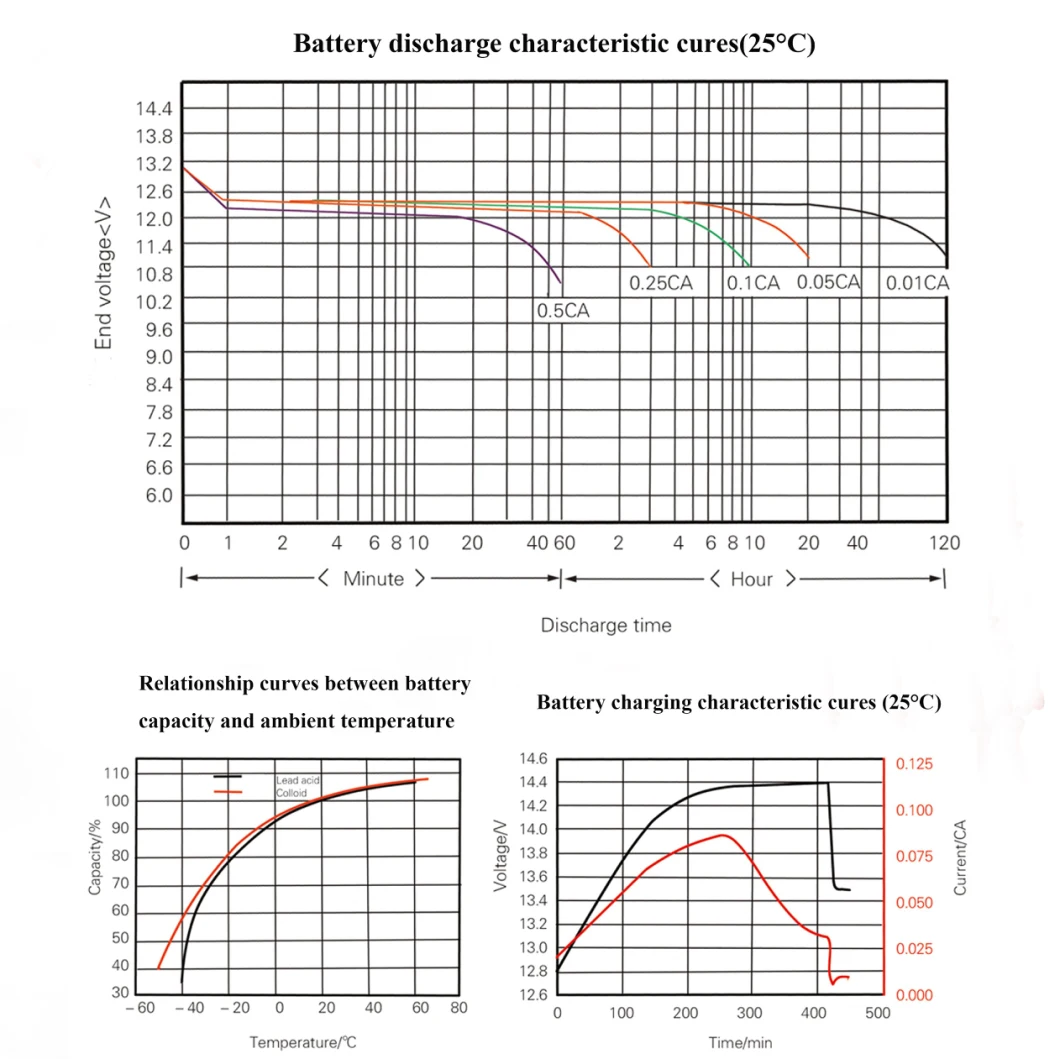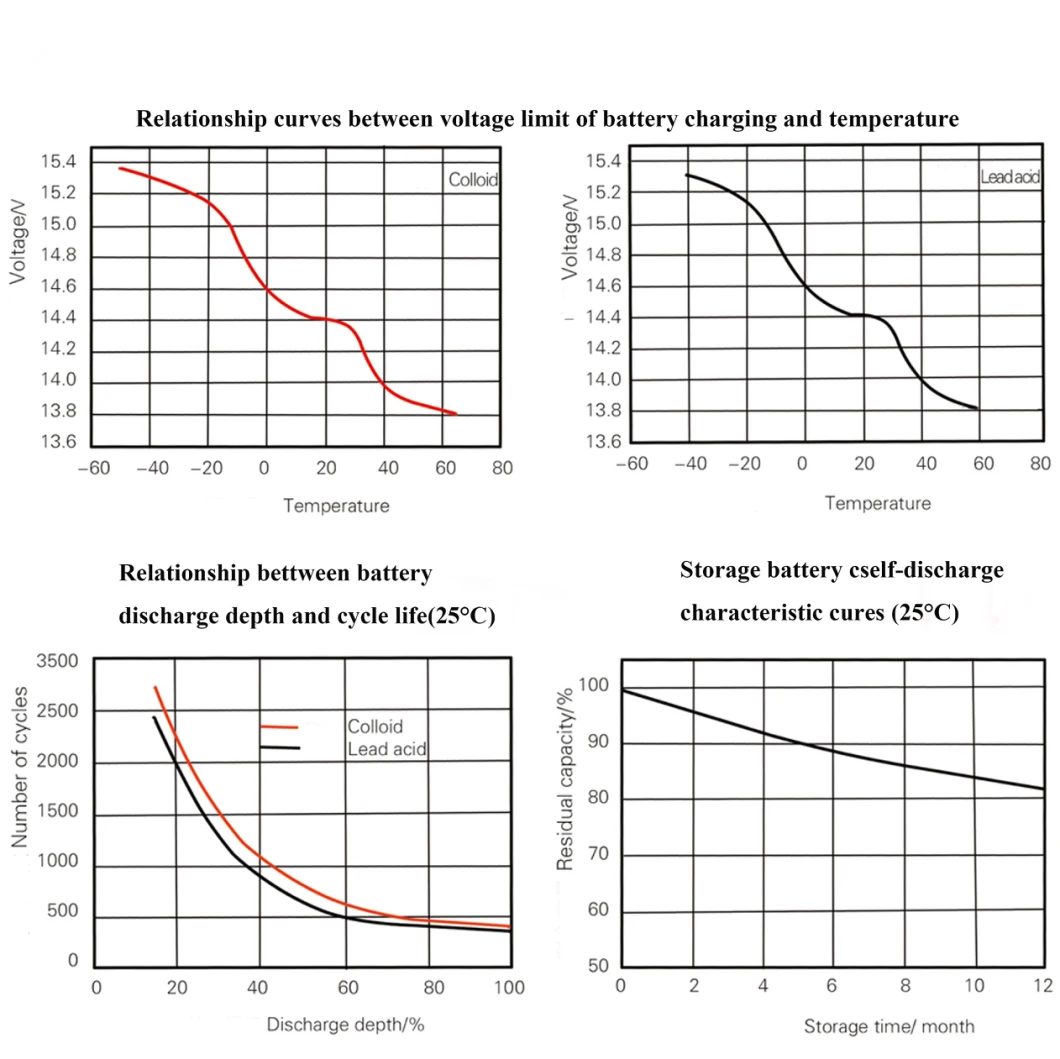 12V Lead Acid Battery Specification
NO.
ITEM NO.
WEIGHT(KG)
SIZE(MM)
L*W*H*Total Height

1

6-CNJ-24

8.6

165*125*175*195

2

6-CNJ-30

10.2

225*95*175*180

3

6-CNJ-40

11.6

196*165*175*194

4

6-CNJ-50

14.4

285*169*176*196

5

6-CNJ-60

17.6

350*166*174*194

6

6-CNJ-65

18.7

350*166*174*194

7

6-CNJ-70

19.6

350*166*174*194

8

6-CNJ-80

24.3

328*172*215*235

9

6-CNJ-90

26.0

328*172*215*235

10

6-CNJ-100

27.2

328*172*215*235

11

6-CNJ-120

33.0

407*174*210*235

12

6-CNJ-150

39.5

485*170*240*260

13

6-CNJ-180

53.0

523*240*220*240

14

6-CNJ-200

55.0

523*240*220*240

15

6-CNJ-250

67.0

521*269*221*241
Product Technical Characteristics:
Green environmental protection;

Safe and reliable of Sealing technology;

Cycle durability and long life;

Low self discharge rate;

Highly charging efficiency;

Good uniformity of performance;

High altitude and temperature;

Excellent capacity recovery performance;

Design life 8-10 years.
Application Area:
Solar energy, wind power station;

Solar, wind energy unattended base station;

Solar, wind energy household power supply system;

Solar energy signal lamp,street lamp, lawn lamp, traffic signal lamp, warning light;

Photovoltaic water pumping system;

The border post Island garrison power supply system;

Remote automation control power supply;

Automatic measuring and reporting power for warm water;

Roof photovoltaic power supply;

Surveying base station.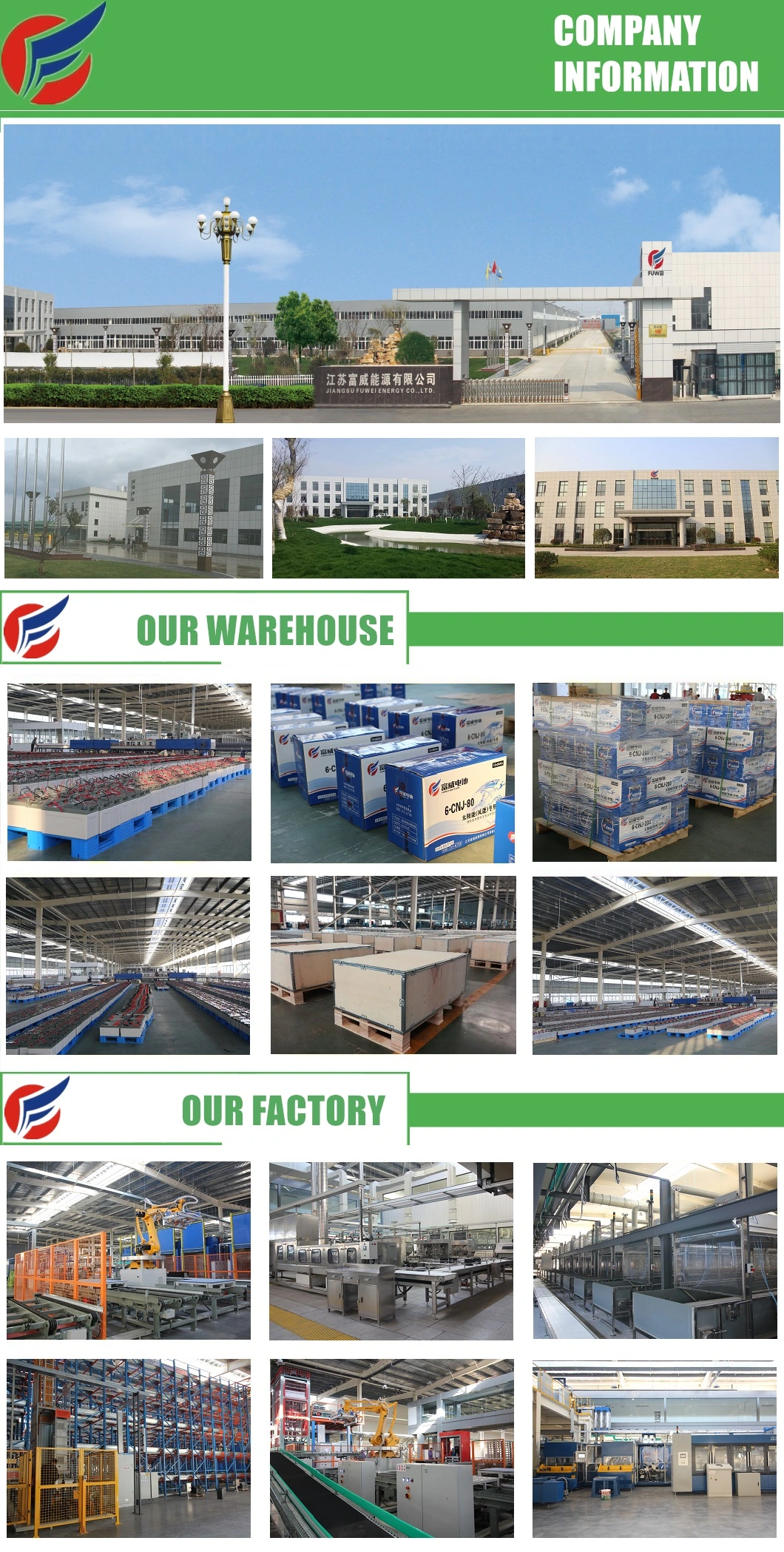 Company Profile
Jiangsu Fuwei Energy Co., Ltd. located in Gaoyou City Battery Industrial Park, is a large high-tech enterprise in develop and production of the battery, known as the "Oriental Post" reputation of the Jiangsu Gaoyou city covers an area of 98000 square meters and registered capital of 200 million yuan. The company has more than 800 employees, including 15 Technicians and 12 Quality Inspectors. Fuwei boasts modernized workshops and advanced production equipment with the production capacity 2 million KVAH yearly,
under the international standard ISO9001, ISO14001, OHSAS18001, Golden Sun certification, EU CE, ROHS, Export license etc..
Fuwei now has self-owned "FUWEI" brand, 7 serious, over 150 specifications of the battery products, and also has won many national awards with a number of independent intellectual propery core technology and its related patents. The company is mainly dedicated to the development, production and distribution of VRLA battery (AGM/GEL): solar/wind energy storage battery, Stationary VRLA battery, Electric Vehicle Lead Acid Battery, Car Starter battery etc.. Our products are mainly used in solar/wind street light, solar/wind power station, solar/wind home power system, UPS, emergency lighting system, communication station, automobile, new energy vehicle and so on.
In recent years, Fuwei has searched for a new mode of development for the new energy sources. We have facilitated the development of Lithium battery, and aims to grow into a national-level R&D center and make its contribution to the development of the industrial standards.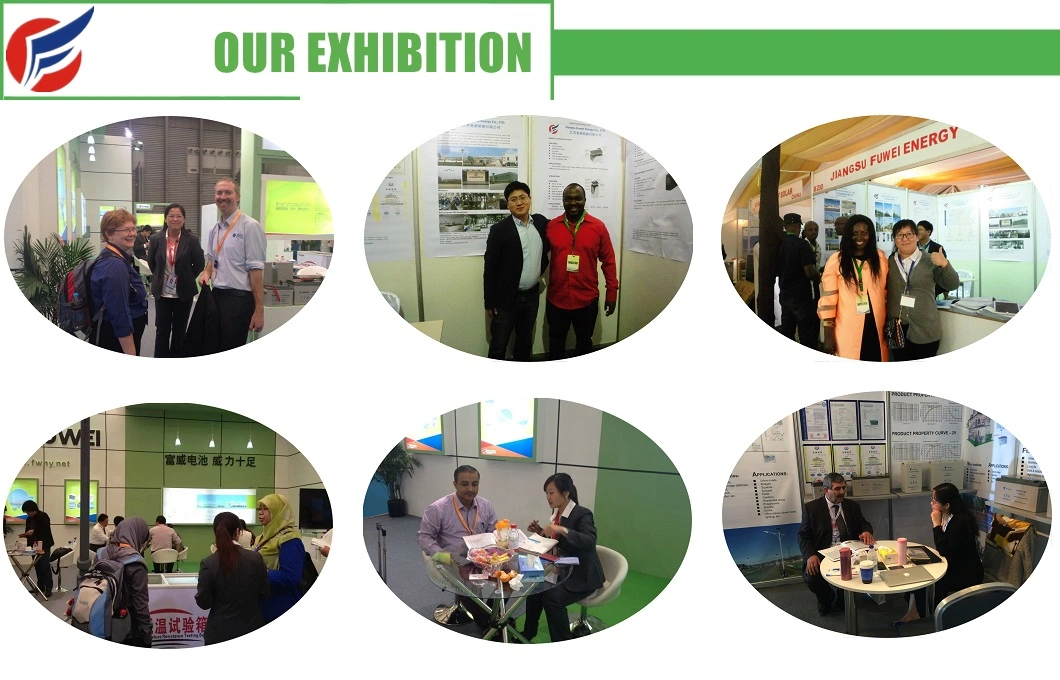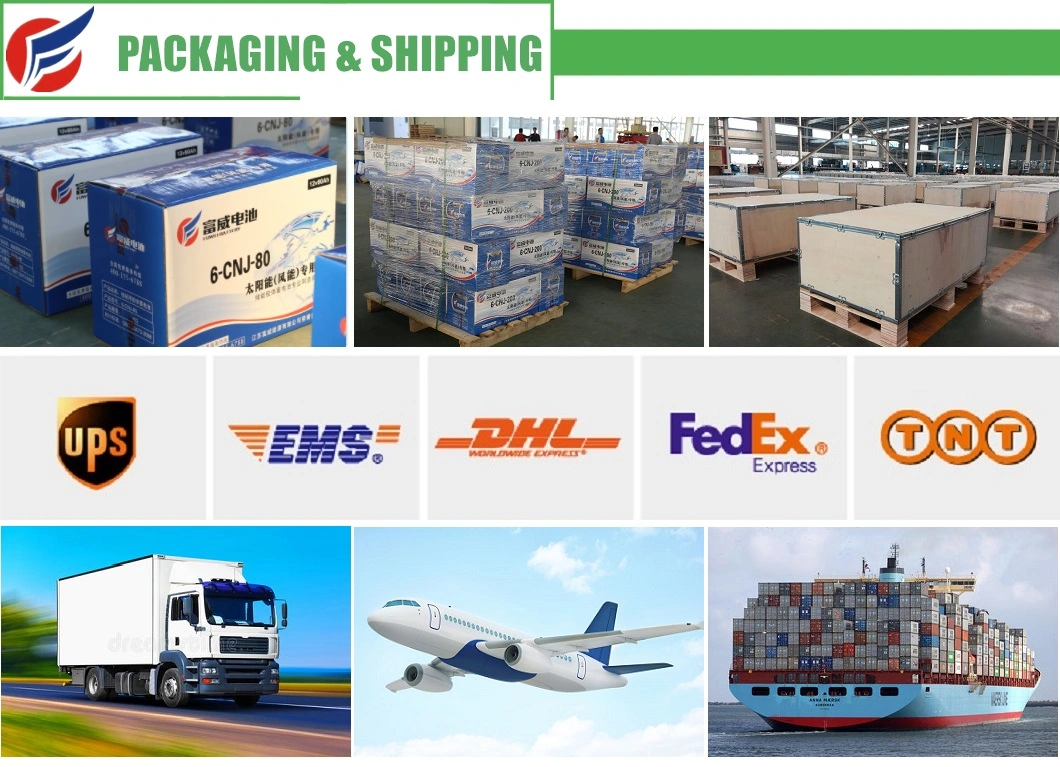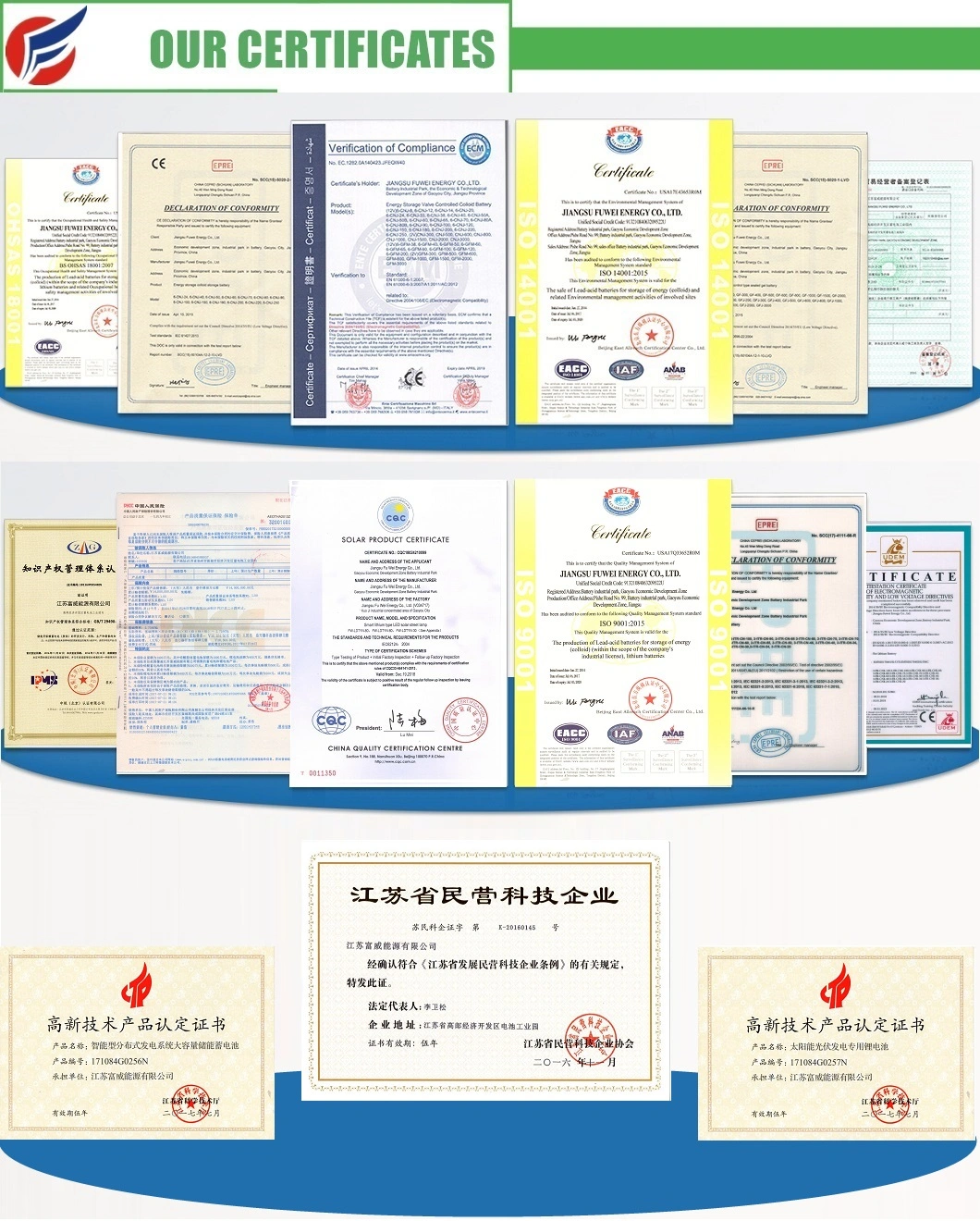 1)Why choose FUWEI Solar Battery?
a.We have been an experienced battery manufacturer for over 10 years.
b.Our products have got CE,IEC,ANAB Ceritificate.
c.Our company have passed ISO9901 and ISO14001.
d.Our products have exported to many countried including Europe, Asia, Africa,Latin Ameican etc. and our brand FUWEI has become an international famous brand in many countries.
2)What about the order details?
a.Delivery date: FUWEI's solar battery will be finished within 15days after down payment be received.
b.Payment: By 30% TT in advance balance paid before shipment.
c.Packing details: Wooden Pallet or Carton Box.
d.Shipping port: Yangzhou, Shanghai or other designated port.
3)How many years for product warranty?
FUWEI offers 3 years warranty for our solar battery.