*Product information:
Modified sine wave inverter can convert DC power 12v/24v/48v to AC power 220v.
It is one type of convenient power converter.It adopts new high frequency switch,second frequency conversion technology and integrated module to make the volume and weight reduced.
Copared with traditional inverter,its volume and weight is only 1/5 to 1/10, and the conversion efficiency improved to more than 90%.It satisfies most of electricity demand.
High efficiency,low noise and moderate prices made it become the mainstream products in the market.
Used in the car is convenient,safe and reliable.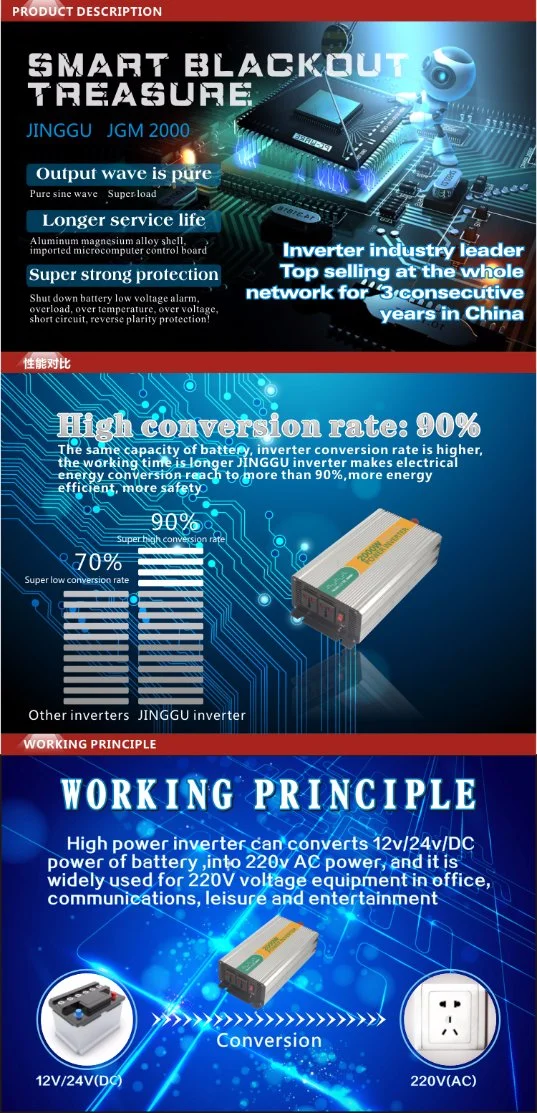 JGCM-500W
DATA
1
Rated power
500W
2
Peak power
1000W
3
DC input voltage
12V
24V
48V
4
DC operating voltage
11-15V
21-29
40-61
AC output voltage
110V±5% or 220V±5%
5
Output frequency
50±2HZ or 60±2HZ
6
Convert efficiency
Max≥90%
7
USB output
DC5V 500MA
8
Output wave
Modified sine wave
9
Protection function
battery low-voltage and over-voltage protection;over temperature protection;over load protection;revers polarity protection;short circuit protection
10
Low voltage protection
9.5±0.3V
19.0±0.5V
39.0±1V
11
Undervoltage recovery
12±0.3V
24±0.5V
48V±1V
12
Over voltage protection
15.5±0.5V
31.0±1V
62±2V
13
Fuse specification
35A*4
20A*4
10A*4
14
Idle consumption
0.8A
0.5A
0.3A
15
Over load protection power
1050-1100W
16
Short circuit protection
Short circuit protection manual reset
17
Working environment temperature
-20°c -- +50°c
18
Protection temperature
Out shell≥65ºC
Charger and UPS data
1
AC input voltage
110V 220V
2
AC input frequency
60HZ 50HZ
3
AC input voltage range
85-130V 170-250V
4
AC input low voltage protection
≤75V ≤150V
5
AC input high voltage protection
≥130V ≥250V
6
AC input fuse
7
Charging mode
Constant current charging,Constant
voltage charging,Float charging
8
Charging voltage
DC12V
DC24V
DC48V
9
Charging current
Max 20A
Max 10A
Max 5A
10
Time for City power switch
to inverting power
≤50MS
11
Time for inverting power switch
to city power
≤50MS